Aboriginal Art in Sydney
As with many other creative works, Aboriginal art is about so much more than beauty. The work tells stories, shares history and makes important statements, as powerful today as they were centuries ago. It is a vital form of expression for indigenous Australians and a way for stories and traditions to be passed on to new generations.
There are many opportunities to see Aboriginal art in Sydney, both in galleries and outdoors – at ancient rock art sites. Visiting these allows you to learn about the heritage of Aboriginal people and gives you better understanding of Sydney's past, present and future.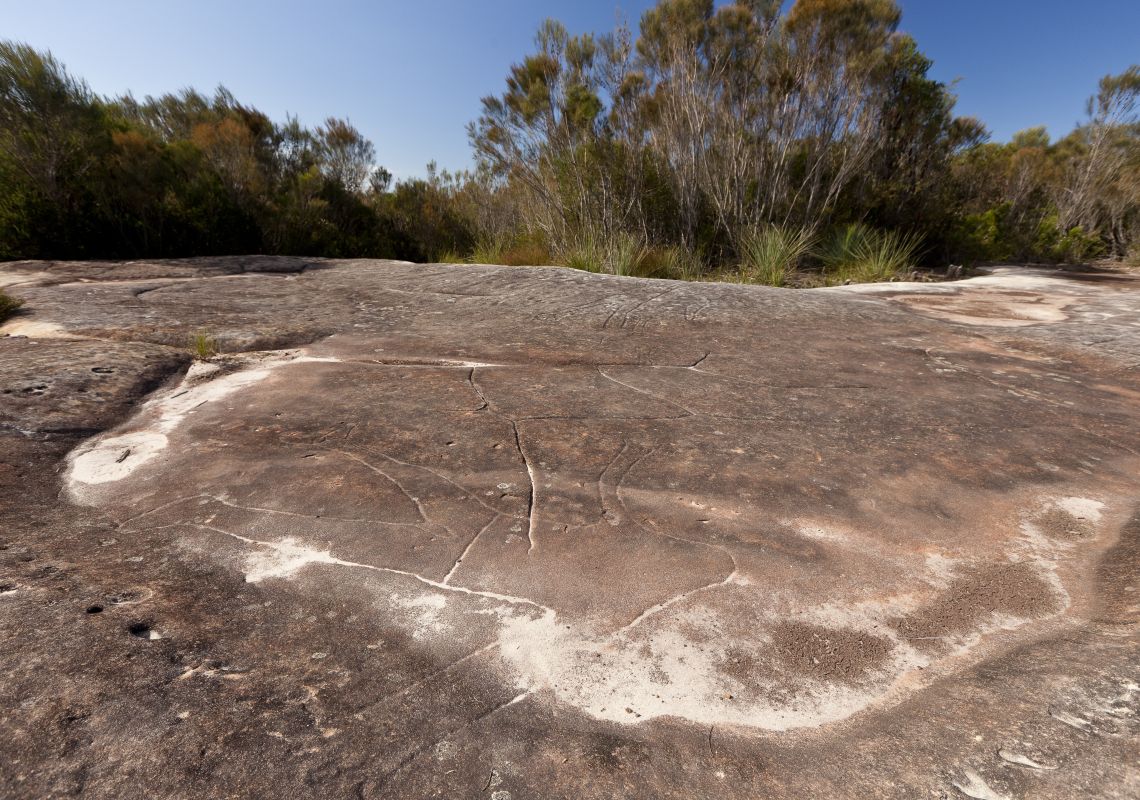 Aboriginal rock & cave art
There are more than 65,000 Aboriginal sites in New South Wales, many of which lie within the state capital's borders. You'll find works dating back thousands of years created with ochre, stone and bark.
The Royal National Park is about a 45 minute drive southwest of Sydney CBD. This enormous stretch of bushland has a bit of everything – amazing scenic driving routes, incredible hiking and walking routes and some of Sydney's best Aboriginal rock art.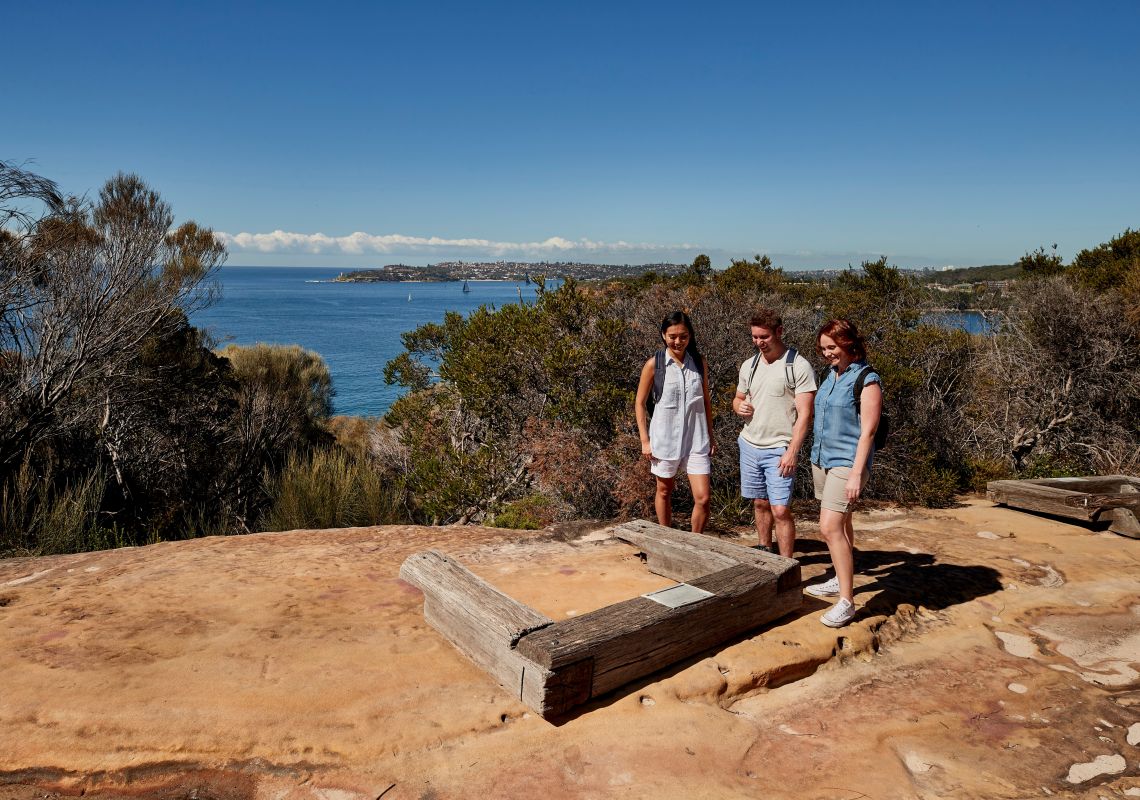 The Jibbon Loop Track is an easy way to experience all of the above. This easy 5km loop starts in Bundeena and serves up amazing coastline scenery and sandy beaches. But it's the viewing platforms at Jibbon Headland at the northeastern end of the beach that provide the most rewarding scenery. From here you can admire sandstone Aboriginal rock carvings from the native Dharawal people, dating back thousands of years.
Another easy point of access to the Royal National Park is Wattamolla Beach, which puts you within a few hundred metres of rock art in multiple directions. Alternatively, you can even grab some camping gear and walk the 11km Uloola Track, encountering a range of engravings before setting up for the night at the Uloola Falls campground.
Ku-ring-gai Chase National Park in Sydney's north is the home of the Darramuragal or Darug people and host to hundreds of engravings. The Lambert Peninsula in the West Head area of the park is a highlight, where you'll find one of the most densely populated areas of Aboriginal rock and cave art in Sydney. Check out a great example of Aboriginal stencil art at Red Hands Cave and explore the Aboriginal Heritage Walk for 4km of preserved Aboriginal history.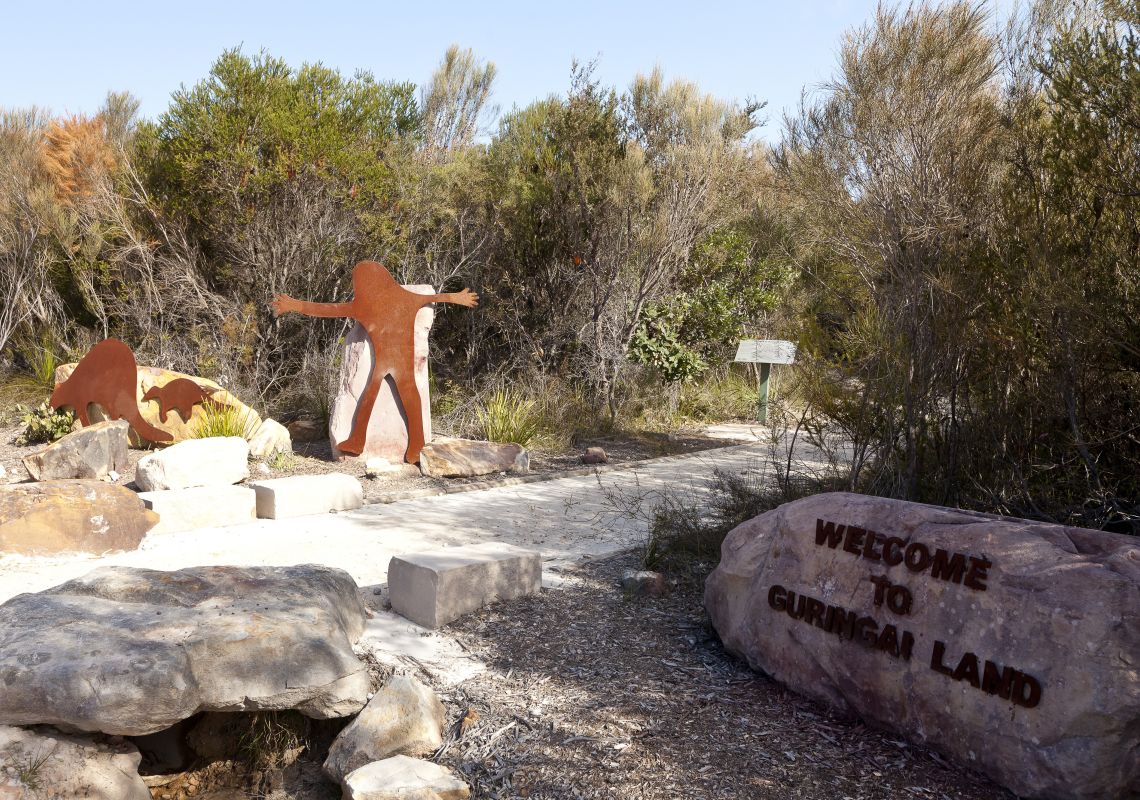 Aboriginal art museums & galleries
Many of the best galleries and museums in Sydney are dedicated to the preservation, promotion and exhibition of Aboriginal art from the past and the present. These institutions put a special emphasis on Aboriginal artists to ensure the lessons and knowledge of their native culture live on for years to come.
In the Art Gallery of New South Wales, you'll find the Yiribana Gallery. A nod to the Gadigal people who traditionally own the land on which the gallery sits, Yiribana means this way in Eora. The Art Gallery is bursting with creativity and knowledge in the form of thousands of Aboriginal pieces in a range of mediums.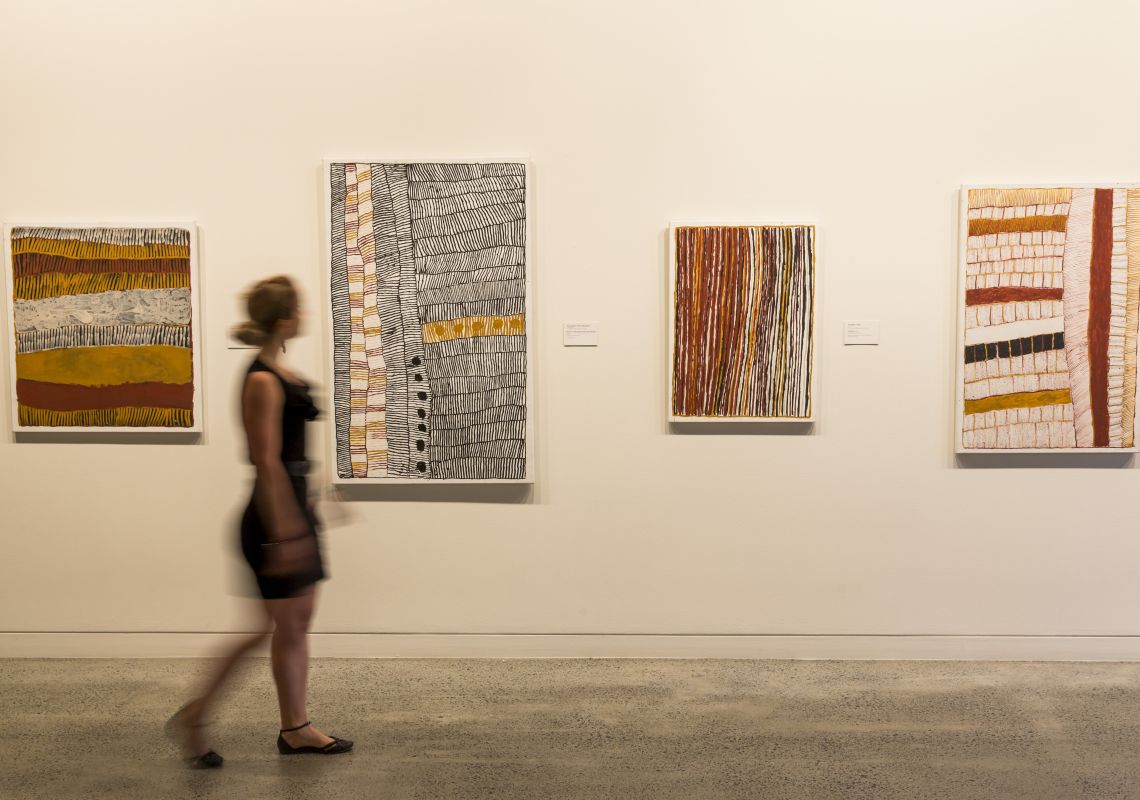 The Museum of Contemporary Art has hosted some of the most important Aboriginal art collections and exhibitions in Sydney for decades and continues to hold exhibitions by indigenous artists. You can also check out the nearby Argyle Gallery and wonderfully named Spirit Gallery, both in Sydney's historic The Rocks district.
The Aboriginal & Pacific Art Gallery in Waterloo proudly presents pieces from Aboriginal nations further afield. Boomalli Aboriginal Artists Co-op in Leichhardt is the place to go to learn more about diversity within the Australian Aboriginal art landscape, and Utopia Art Sydney in Alexandria has helped ensure representation of artists of all backgrounds for more than 30 years.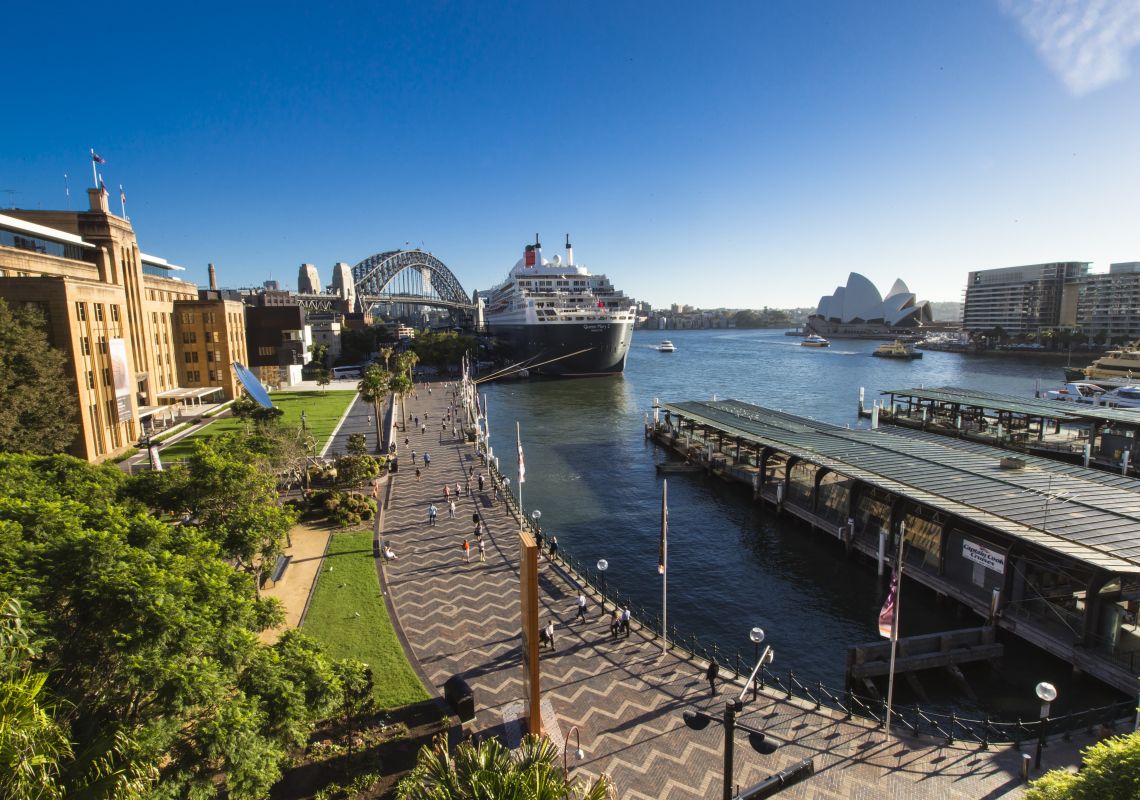 If you want an Aboriginal art experience truly unique to Sydney, make sure you check out the Badu Gili exhibition at the Sydney Opera House. Badu Gili means water light in the language of the Gadigal people who originally owned the land at Bennelong Point. In 2021 the projections feature six female First Nations artists using works from the Art Gallery of NSW. The show runs for six minutes and there are four a night, starting from sundown and running approximately every hour.
Where Can You Buy Aboriginal Art?
Once you experience Aboriginal art in person, we won't blame you if you feel the calling to own some. There are several great galleries featuring Aboriginal art all within a short range of each other in some of the most popular suburbs of Inner Sydney.
Toward the east, The Artery in Darlinghurst provides visitors a more affordable way to take home stunning contemporary Aboriginal art. Once you've had a look there, you can walk about 25 minutes to the next suburb over and visit Paddington's Cooee Art Gallery. Describing itself as, "Australia's oldest Aboriginal fine art gallery," Cooee is your chance to see and buy premium pieces of Aboriginal art, including paintings, sculptures, artefacts and more.
Meanwhile, in the Inner West, the huge, award-winning Kate Owen Gallery in Rozelle offers Aboriginal works from all over Australia. You can also purchase artworks at Boomalli Aboriginal Artists Co-op in Leichhardt.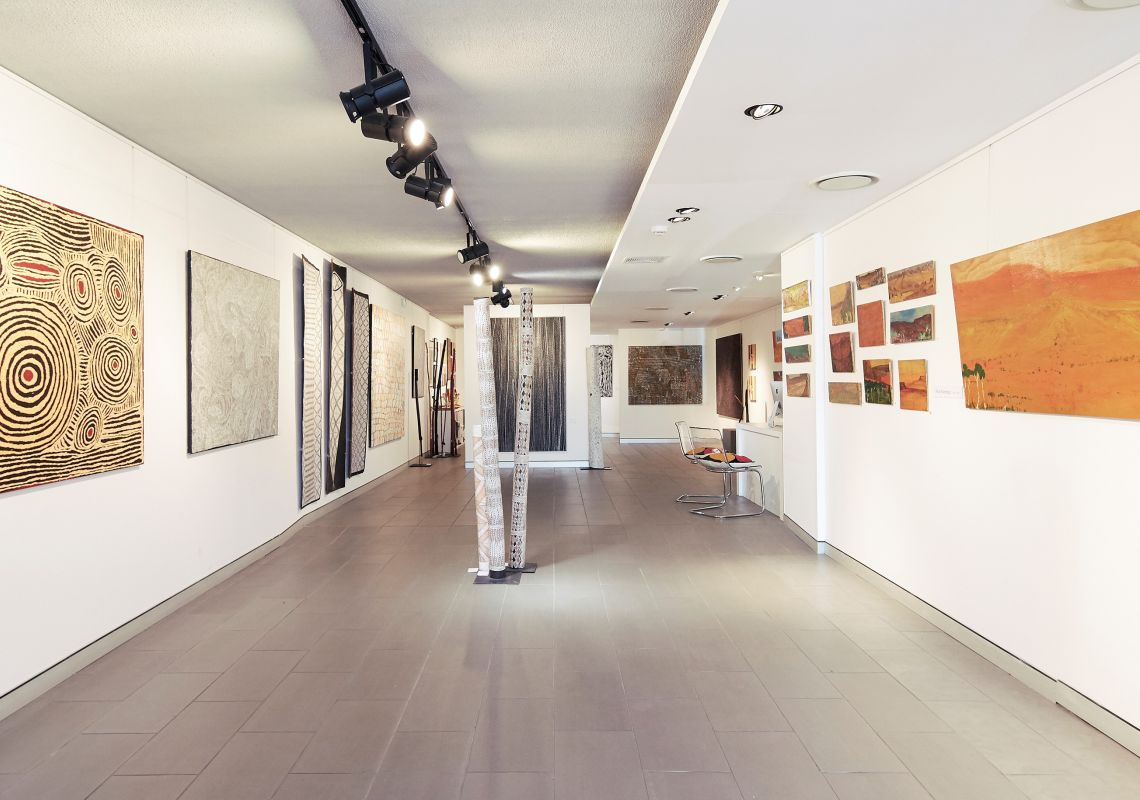 Learn Aboriginal Art Techniques
There are plenty of places where you can learn Aboriginal art techniques in Sydney, with art classes all over the city. Each year there are classes run in Centennial Park that help educate attendees on the traditional owners of the land, their culture and the meaning behind their artistic style.
The annual National Indigenous Art Fair during NAIDOC Week invites participants to take part in collaborative weaving works while diving into the importance of this community-building activity. And at the Muru Mittigar Aboriginal Cultural and Education Centre in Western Sydney, one of the key parts of the immersive day experience is an art class.