Carmen on Cockatoo Island
Carmen on Cockatoo Island
An unmissable Sydney experience, Opera Australia's thrillingly contemporary Carmen on Cockatoo Island will come to life outdoors on one of Sydney Harbour's most historic isles for the cultural event of the summer.
The unmissable performance of the summer
The unmissable performance of the summer
"Carmen with a rock'n'roll heart" – Michael Bailey, AFR
"High voltage energy" – Peter McCallum, Sydney Morning Herald
★★★★★ "a five-star experience" – Justin Clarke, Theatre Thoughts
Your Sydney summer adventure awaits. The ultimate femme fatale is back, in a brand new island performance in the middle of Sydney Harbour. Experience Carmen on Cockatoo Island like never before as this production stuns in an electrifying interpretation of the classic opera performed in the middle of Sydney Harbour.
For Opera Australia's first event of its kind on historic Cockatoo Island, revel in the story of the dangerously magnetic Carmen as the famous songs of 'Habanera' and 'Toreador' energise the summer evening and sweep you into Georges Bizet's dark tale of seduction, devotion and jealousy.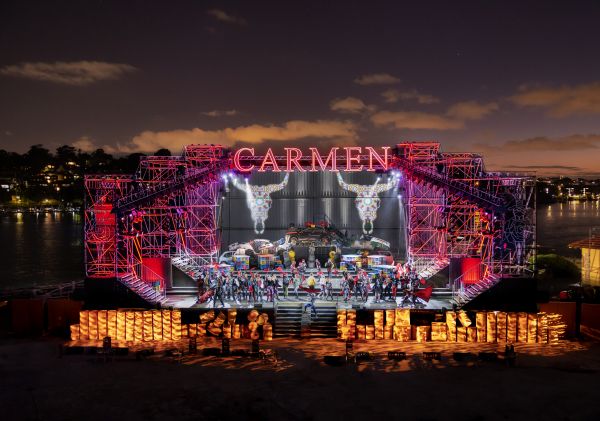 Pulse-quickening fireworks, car chases, motorbike stunts and fire-twirling deliver an unforgettable, open-air spectacle that dials up the excitement of traditional opera and ignites the atmosphere of this world-class arts venue with a festival-like energy.
Disembark from the ferry and enjoy a pre-performance sunset drink at the pop-up bar or grab a bite from incredible food stands on The Merchant Mealhouse on Cockatoo Island.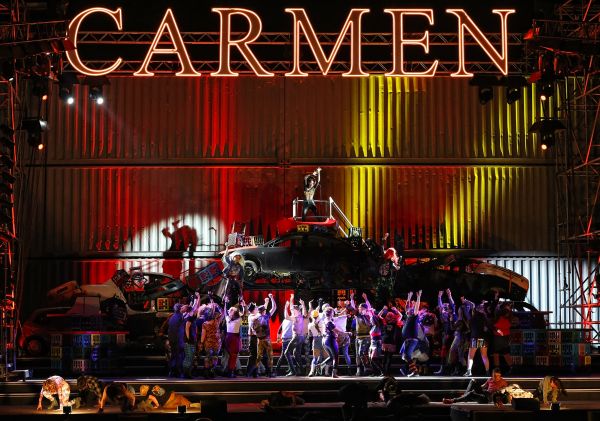 This exclusive outdoor event takes place for three weeks only on a temporary stage on Cockatoo Island's Bolt Wharf in a feat of technical engineering. An auditorium canopied by stars and backdropped by the beauty of the harbour provides a wholly immersive environment to appreciate this moving opera.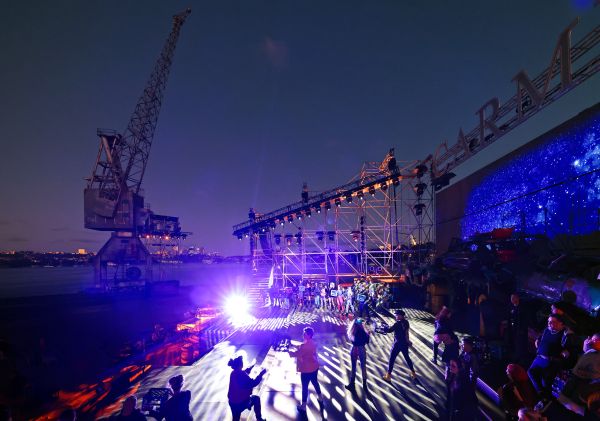 What is Carmen on Cockatoo Island?
What is Carmen on Cockatoo Island?
Carmen tosses her hair, stamps her feet and the whole world falls under her spell.
Revel in the irresistible Spanish tunes, sultry story and dark undercurrent of Carmen. You'll hear the flirty Habanera and famous Toreador song amid a spectacle that features motorbike stunts, crashed cars and fireworks.
Accommodation
Make a night of it and bed down on Cockatoo Island or around Sydney Harbour. The historic island has an array of accommodation options, from guesthouses to more rustic camping, while you'll find refined stays at five-star luxury and boutique hotels in Circular Quay and the city centre. 
Explore
Before the performance and after the final curtain call, ride the evening's buzz back to the city for a nightcap at one of Sydney's many inspiring bars. From cosy speakeasies and chic cocktail lounges to dedicated whisky and tequila bars, you'll find plenty of places for a debrief in The Rocks and CBD.
Transport
Transport
Your night begins with a ferry ride across the glittering harbour – book into a timeslot for the pre-performance shuttle service using the Opera on Cockatoo Island Shuttle Ferry, and arrive early for a drink and enjoy the atmosphere before the event starts. Alternatives are public ferry or water taxi.