72 Hours - Hawkesbury - Gourmet Getaway
The ultimate three-day gourmet getaway in the majestic Hawkesbury
Leave the city behind for a long weekend of country-fresh produce, boutique distilleries and bushland vistas. Here's your guide to a Hawkesbury culinary escape.
The Hawkesbury region isn't known as Sydney's food bowl for nothing. This fertile pocket of the state is a patchwork of orchards and vegetable gardens, which for visitors equates to bountiful farmers markets, forward-thinking vintners and distillers, and restaurants where chefs don't compromise on flavour. Bring your stamina (and your stretchy pants) – the next three days are going to get indulgent.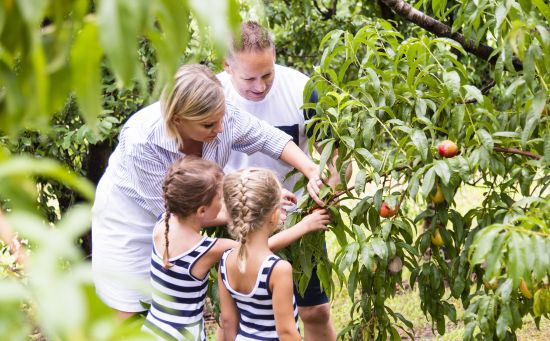 HIGHLIGHTS
Pick apples, berries and peaches straight from the tree (or bush)

Sit down to degustations that change daily depending on the produce available

Lay out a picnic of roast chicken and apple cider to be enjoyed under fruit trees

Savour coffee in the company of alpacas
GETTING THERE
The start of your culinary adventure.
KEY FACTS:
Spicers Sangoma Retreat is located at
70 Grandview Lane
Bowen Mountain NSW 2753

It's a 90min drive (80km) north-west of Sydney
Given the Hawkesbury region's proximity, you don't even need to leave work early to arrive in time for dinner – it's just a 90min drive from the heart of Sydney. Set your GPS for Spicers Sangoma Retreat, a patch of paradise surrounded by the Blue Mountains National Park. Your accommodation for the next three nights is food-focused, so call ahead and book tonight's table.
After you've ditched your luggage in one of the dreamy suites or glamping tents – all of which come with deep soaking tubs and wood-burning fires, not to mention uninterrupted views over the bushland – sit down to a dinner of epic proportions. The menu here changes daily, depending on what the chefs source from Hawkesbury purveyors. Whatever you choose, there's always a focus on organic vegetables grown sustainably at nearby Harvest Farms.
DAY ONE: FRIDAY
Easing into indulgence.
DAY ONE KEY FACTS:

Cook's Shed is located at
2 West Portland Road
Sackville NSW 2756

It's a 35min (30km) drive back to Spicers Sangoma Retreat
Morning
While you're sipping coffee and gazing out over the bush canopy from your Spicers suite, download the Farm Gate Trail app and select "Hawkesbury". This is not a prescribed route as such, but curated suggestions of local purveyors to add to your culinary radar. The app does enable you to tailor your stops to produce that most appeals to you, whether that's figs or watermelons, honey or herbs.
Point your newfound app north towards Harvest Farms, the main supplier of last night's dinner, where you can take a tour of the grounds and learn about community agriculture. Next, the Secret Garden & Nursery is a not-for-profit community hub hosting beehives, a lush plant nursery and a cafe, where everything on the menu comes from the surrounding district.
Afternoon
There's something about the crisp, clean air of the country that makes you thirsty. Thankfully, the Hawkesbury has a handful of wineries to refresh your palate with a sip or two. Tizzana, Bull Ridge and Jubilee Estate are all within a couple of kilometres of each other around the delightful town of Sackville, on a bend of the Hawkesbury River. Various vintages of sauvignon blanc, rosé and verdelho are available at the wineries. 
Evening
In 2014, Martin Boetz, the brains behind the applauded (now defunct) Asian-fusion restaurant Longrain in Sydney, made the move to the Hawkesbury to start Cooks Shed, a restaurant designed to take diners back to the basics of produce. His two-course themed meals are held in a refurbished shed in Sackville, with everything from Middle Eastern to Thai on the changing menus. Make a booking and enjoy.
DAY TWO: SATURDAY
Full food coma.
DAY TWO KEY FACTS:
Pine Crest Orchard is located at
2549 Bells Line of Road
Bilpin NSW 2758
It's a 30min (25km) drive from Spicers Sangoma Retreat
Morning
Your morning fruit consumption depends on which month you're visiting in. Head to Bilpin's Pine Crest Orchard and you could be picking pears (January), berries (February), golden delicious apples (March) or peaches (December). There's no entrance fee to visit this sprawling farm – just pay for what you pick.
Nearby is Bilpin Fruit Bowl. You've already stocked up on naturally sweet treats, so make a beeline for the vegetable gardens, where you can pick your fill. The establishment also has a store where you can purchase homemade pies and scones, plus local honeys and jams. Brilliant paired with a cup of tea back at your bush retreat.
Afternoon
When the clock ticks over to noon, make your way to Bilpin Cider Co. This brand needs little introduction, with its fizzy ferments sold across the country. At the cellar door, you can try all 10 beverages in the portfolio (both boozy and non-alcoholic) and then take a stroll around the apple orchard, where friendly sheep and alpaca roam. Bring a picnic blanket, order a hamper from the onsite provedore (one option: roast chicken with cheeses, salad and freshly baked bread rolls) and find a leafy lunchtime spot on the property.
Add even more sparkle to your day down the road at Hillbilly Cider. Sample apple and pear ciders made using local fruit and, if you're still peckish, pick up a wood-fired pizza.
Evening
After the day's non-stop grazing, you'll want a light dinner. Back at Spicers, book the wine, cheese and chocolate experience and have a sommelier visit your suite and discuss the drops you're drinking, before leaving you to devour a selection of local fromage and delicious chocolate. Hot tip: there's also a wine and watercolour painting class.
DAY THREE: SUNDAY
The last straw (or wattleseed).
DAY THREE KEY FACTS:
The Village Kitchen Kurrajong is located at
83 Old Bells Line of Rd, Kurrajong NSW 2758

It's an 8min (5.5km) drive to

The Village Kitchen Kurrajong
Morning
It's hard to say goodbye to Spicers Sangoma – if ever there was an antidote to the stress of modern-day life, this is it. Once you check out, delay your return to Sydney with a stop at The Village Kitchen Kurrajong, where the coffee is strong, the breakfast staples are on point and the courtyard is pet-friendly – alpacas have been known to stop by with their owners.
Afternoon
As you head home, take note that just a quick drive west, at the base of the Blue Mountains, lies Karu Distillery, which not only makes impressive gins infused with the likes of lemon myrtle, honeybush and citrus, but also crafts G&Tea cocktail infusion bags with flavours such as rosella and butterfly pea. Don't detour just yet – the estate is in the process of building a cellar door to welcome visitors for tastings. Until then, pick up Karu bottles and bags from specialty stores and markets across the Hawkesbury region. 
Stop in Richmond for a stroll in the park and to admire the many historic buildings in the town centre, before continuing your journey home. 
Discover more in the Hawkesbury