Spit Bridge to Manly Walk
Make your way along the harbourside trail to one of Sydney's most beloved beach suburbs - Manly. The 10km Manly Scenic Walkway beings at the Spit Bridge and passes sandy beaches, ancient Aboriginal sites and incredible lookouts, before arriving at the cosmopolitan restaurants. cafes and bars in Manly.  
Fast facts
Distance and time: 10km one-way, 3.5-4 hours  

Level: Grade 3 track. Suitable for most ages and fitness levels with occasional sections of stairs. There are also sections of sand, bush tracks and boardwalk. Not suitable for prams or wheelchair users  

Top attractions: Clontarf Reserve, Grotto Point Aboriginal engraving site, Crater Cove Lookout, Forty Baskets Reserve, Manly 

Dogs not allowed 

Toilet facilities at the start and end of the walk and at Clontarf Reserve, Reef Beach, Forty Baskets Beach, North Harbour Reserve and Fairlight Beach 

Drinking fountains available at Clontarf Reserve, Fairlight Beach and Manly 
> See a map of the Spit Bridge to Manly walk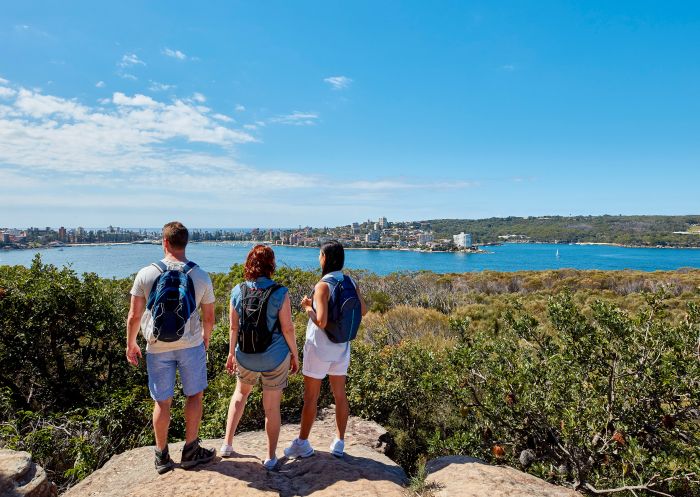 The Route  
The Spit Bridge 
The walk can be taken in either direction, but manly people choose to start at the Spit Bridge. At the south side of the bridge, there are toilet facilities, and you can grab a coffee and/or snack at Grumpy's Wharf Café. Then you'll walk across the footpath on the west side of the Spit Bridge. Once you reach the other side, follow the path that winds you under the bridge. There'll be signs so you know you're on the right track. Once you reach Ellery's Punt Reserve and you're on your way.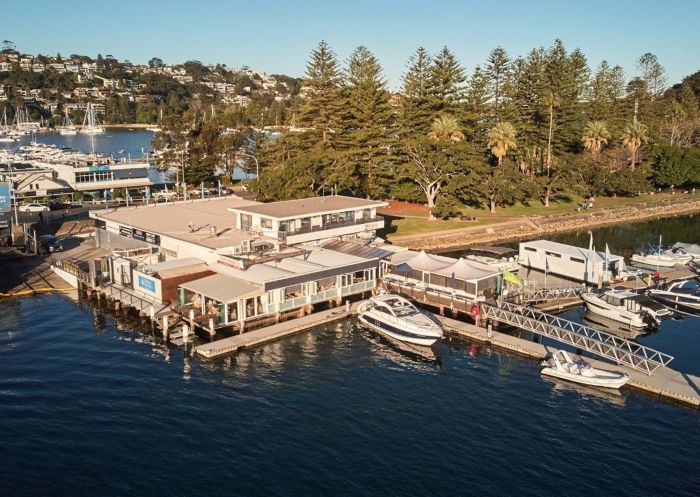 Clontarf Reserve 
Following the Fisher Bay Walk portion of the Spit to Manly for about 1.5km will take you to Clontarf Reserve and Clontarf Beach. But make sure you don't speed past the Aboriginal cave shelter on your left about 700m into your stroll.  
Clontarf Beach and Clontarf Reserve are a lovely spot to spend an afternoon, and they can also give you plenty of space and comfort to get your bearings before tackling the rest of the walk. Use the toilets, grab a coffee and some food from Bosk Kiosk and fill up your water before heading off. 
If the tide is low and you don't mind the sandy stuff, stick along the coast to continue your trek. However, if the tide is high, you will eventually come to a section that is unmanageable on foot. If this is the case, just divert to Monash Crescent (you'll see a sign pointing you in the right direction). You'll rejoin the track at the end of the street.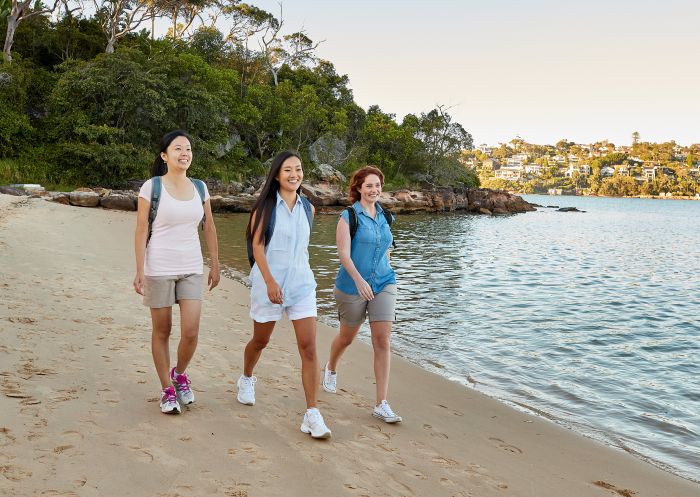 Castle Rock Beach 
As you follow the Clontarf Track, in about 700m you'll come to another beach – Castle Rock Beach. If it's super toasty and you want a little cooldown after your first few kms, feel free to jump in. It's quite secluded and also bare bones in terms of beach – just sand and water. However, you'll also be treated to an ancient Aboriginal rock carving and, if there's been enough rainfall, a mini waterfall.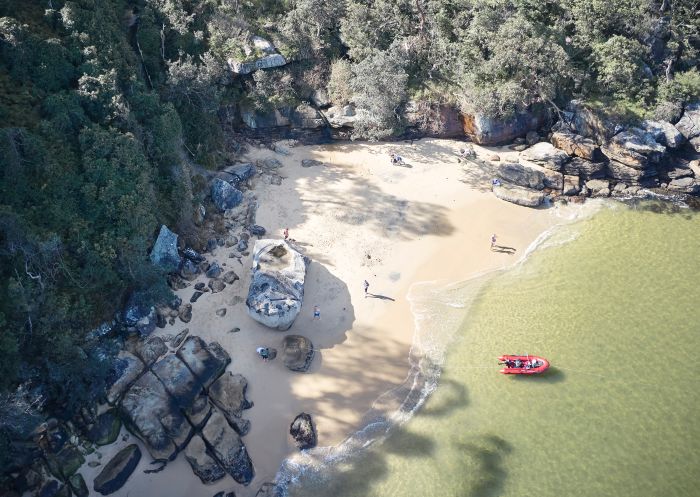 Grotto Point Lighthouse 
This is for those who really want to maximise their time on the track, as it's not officially part of the Spit Bridge to Manly Walk. However, for those interested in a rewarding little detour, just make a quick right onto the Lighthouse Track and take it to the end to see the Grotto Point Lighthouse. After gazing out at the Harbour, you can turn and head back up the one-way track to rejoin the Spit to Manly walk. 
Washaway Beach, a detour off the detour to the left, can be unsafe for swimming and occasionally (as the name suggests) is washed away completely. However, if you do venture down you'll be treated to a great view of and through North and South Head.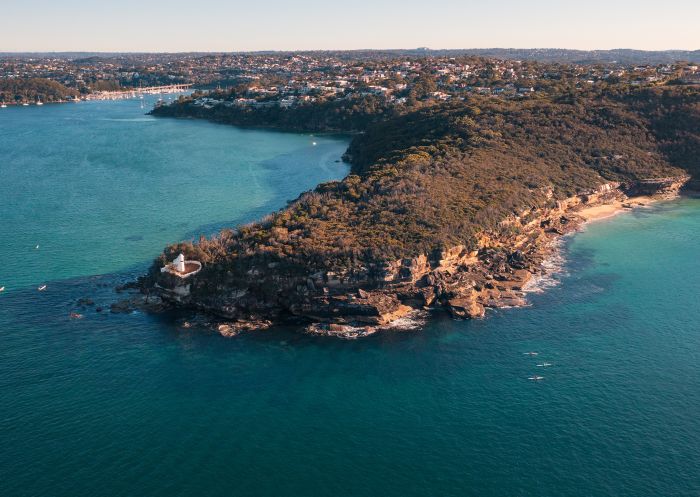 Grotto Point Aboriginal Engraving site & Crater Cove 
Sydney is home to hundreds of sites that preserve and celebrate Aboriginal culture. One of the finest examples is the Grotto Point Aboriginal Engraving site on the Spit to Manly track. Located just a few hundred metres past the Lighthouse Track detour, this is an amazing place to check out sandstone carvings believed to have been created more than 1,000 years ago. See if you can spot an engraved boomerang and collection of animals. 
Just after Grotto Point is Crater Cove, which offers up some delicious harbour scenery. This is an excellent spot to take a load off and refuel with some snacks and a view.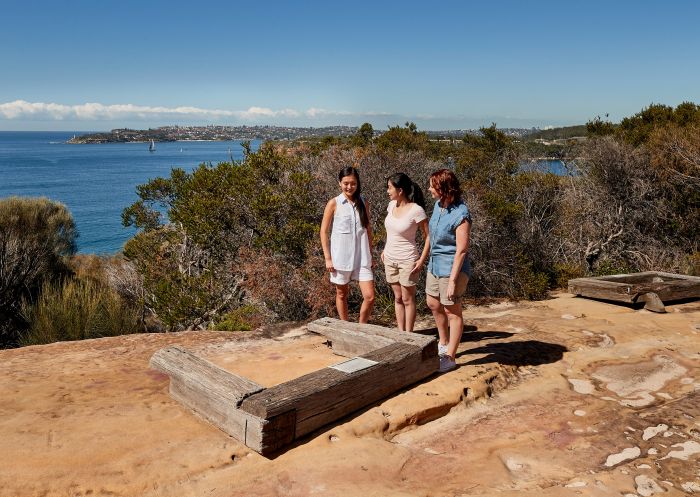 Dobroyd Head 
For many, this is the best lookout on the whole walk. Before you take the stairs down toward sea level, make sure you enjoy this mesmerising vantage point, which serves up your first full look of Manly. It might just be the motivation you need to keep on walking.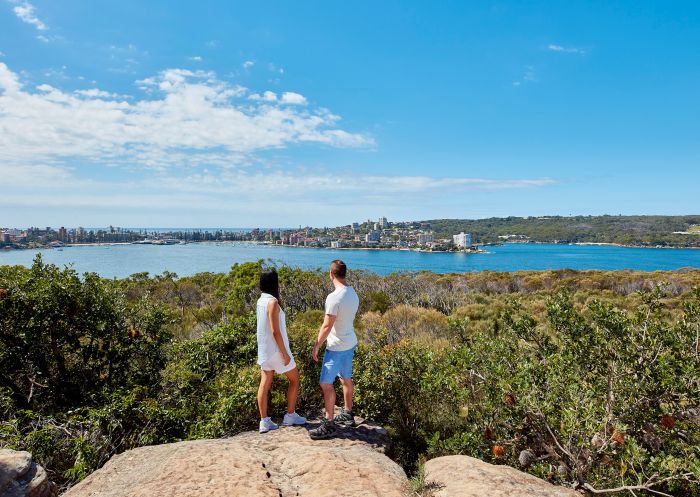 Reef Beach & Forty Baskets Beach 
As you continue on the walk, you'll have two more opportunities to stop and enjoy a spot of swimming before you finish off the Manly Scenic Walkway. The first of these is Reef Beach, located once you descend down the stairs at Dobroyd Head. Enjoy similar North Harbour views, but from closer to sea level. Another 5-10 minutes down the track you'll find Forty Baskets Beach, where you can swim, and the kids can have a swing.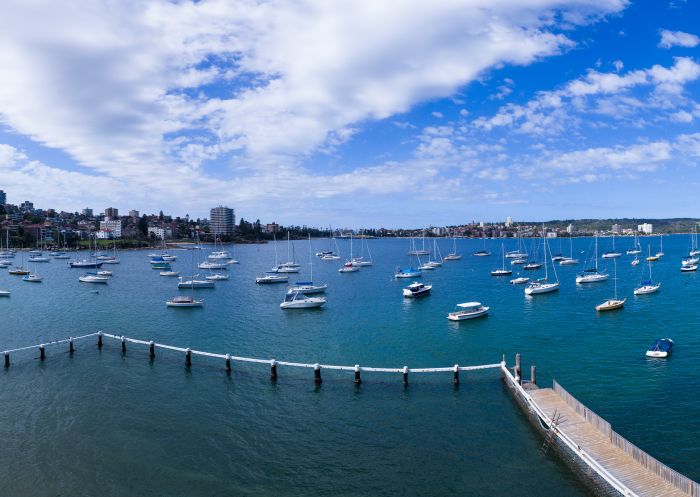 Fairlight Beach 
Soon after Forty Baskets Beach, you'll pick up the North Harbour Walk portion of the track. There are a couple of high tide spots here, so if required you'll head up onto some paved roads. If necessary, go left onto Gourlay Ave, a right onto Clarence St and then a right onto North Harbour street to get down to the reserve. Follow the signs as you hug the coast to Fairlight Beach, home of a popular rockpool that offers a little something different for trekkers looking to splash around a bit.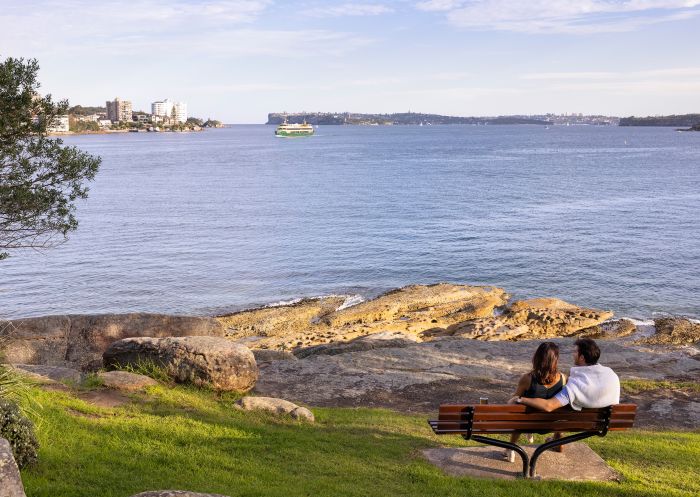 The home stretch 
At this point, you've just about made it. The final kilometre is straightforward, hugging the coastline as you make your way toward storied Manly Wharf. At that point it's time to reward yourself for a job well done. Walk down the pedestrian-only Corso for a range of cafes and takeaway joints. Or grab an outdoor seat and a drink at Manly Wharf Hotel, 4 Pines Brewing Company or The New Brighton Hotel, one of the best rooftop bars in Sydney. 
If you're staying in the city, don't pass up the chance to enjoy the Circular Quay to Manly ferry route to get back to your accommodation. Otherwise, if you need to return to where you started at the Spit Bridge, just hop on a bus at one of Manly Wharf bus stops. The official NSW Trip Planner can help you map out your journey.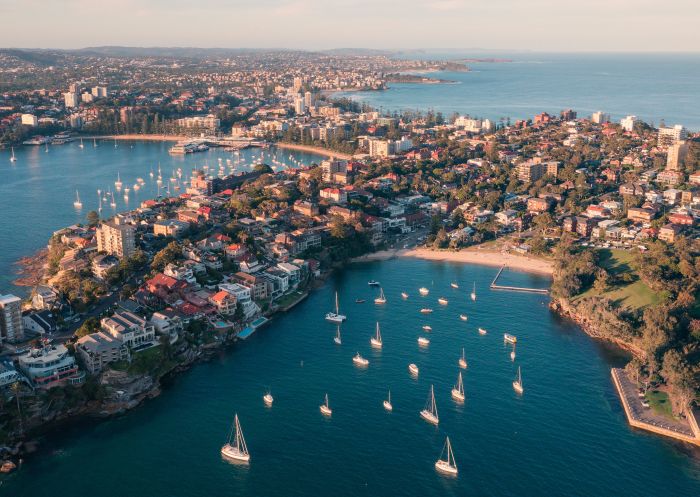 The other direction: Manly to Spit Bridge 
Of course, you can do this walk the other way as well. Parking in Manly for such a duration can be tough. There are a few parking stations you can choose from, but they are quite expensive. You don't want a hit to your wallet to overshadow the beauty of the Manly to Spit Bridge Coastal Walk, so take a bus as suggested before. Charge up for the day at one of Manly's cafes before heading off. 
Finish up your reverse trek with some well-earned drinks and nibbles at Clontarf Beach. While it's a bit too early in the walk to really enjoy to the fullest if you're departing from the Spit Bridge, it makes for an excellent debriefing spot if you're coming from Manly. After all, it is one of the Northern Beaches' best picnic spots. Then you can walk the final little stretch to the buses near the Spit Bridge. 
Top swimming spots for cooling off
Explore more walks in Sydney
Ready for more great walks? Check out these beauties and get ready to lace your walking boots up and do it all over again.
Spit to Manly walk FAQs
How long does it take to walk from Spit Bridge to Manly?

How long does it take to walk from Spit Bridge to Manly?

It usually takes between 3.5 and 5 hours to walk from the Spit Bridge to Manly.
How far is the Spit to Manly walk?

How far is the Spit to Manly walk?

The Spit to Manly walk is 10km long.
Where does the Spit to Manly walk start?

Where does the Spit to Manly walk start?

The Spit to Manly walk starts at Ellery's Punt Reserve, located underneath the east side of the Spit Bridge.
Is the Spit to Manly walk dog friendly?

Is the Spit to Manly walk dog friendly?

The Spit to Manly walk is not dog friendly, as some sections of the Manly Scenic Walkway pass through Sydney Harbour National Park, which does not permit dogs. However, you can amend the walk to avoid the National Park by cutting up into the residential streets at Castle Rock Trail. You'll rejoin the track at Forty Basket Beach.
Inspiration straight to your inbox
Subscribe to our newsletter in order to stay up to date for all the upcoming events, news and inspiration.
Never miss out on news and events