Manly to Spit Bridge Walk
Fast Facts
Distance and time: 10 km one-way, 3hr 45min

Level: Grade 3 track. Suitable for most ages and fitness levels. Not suitable for prams or wheelchair users as there are several steep sections of stairs, some of which are uneven sandstone steps.

Top attractions: the tidal pool in Fairlight, the very swimmable Clontarf Beach, Reef Beach, Crater Cove, whale watching during the migration season, Grotto Point Lighthouse, the Spit Bridge   

The official Spit to Manly track passes through Dobroyd Head, where dogs are prohibited.

Drinking fountains available  
The  beauty of the surrounds on the 10km Manly to Spit Bridge Coastal Walk is breathtaking: groves of trees with tangled limbs, sculptural rock shelves and dramatic cliffs that change hue at dawn and dusk, reflecting the first and last rays of the sun over the sea.
The track unravels through a mix of bushland and harbourside trails and series of short tracks crossing between stunning beaches, bays and inlets in North Sydney. The walk is well sign-posted and takes around three to four hours to complete, depending on your fitness level and how many times you stop along the way.
Catch the ferry across Sydney Harbour to Manly Wharf, where you can start your walk to Dobroyd Head, which is like a viewing platform for Sydney Harbour. Continue until you get to Reef Beach, Forty Baskets Beach and Fairlight Beach, which are all family friendly. Fairlight rockpool is great for spotting sea life.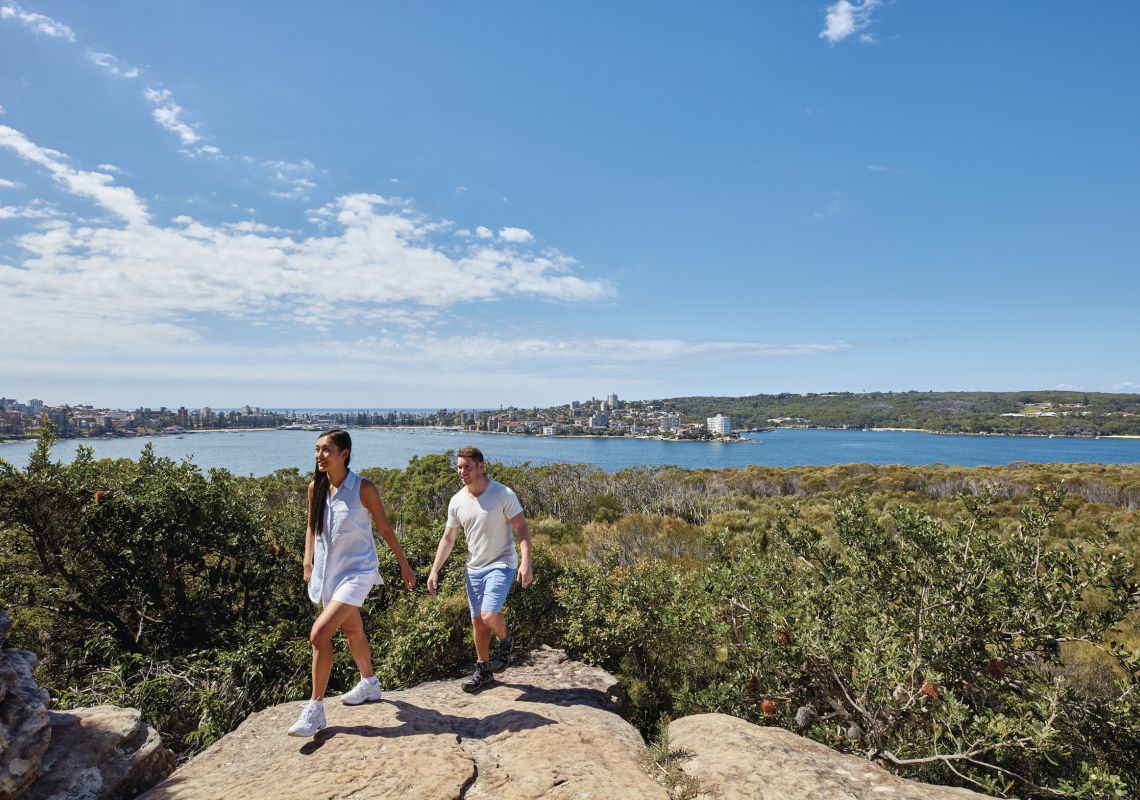 The clifftops at Crater Cove and Arabanoo lookout are top spots to watch the start of the Sydney to Hobart yacht race, held on Boxing Day each year. Look for the small Heritage-listed fishing huts built during the Great Depression that sit close to the cliff face at Crater Cove.
Hug the coast in Sydney Harbour National Park to get to Castle Rock Beach, a secluded inlet where there is a well-preserved Aboriginal rock carving by the local Cammeraygal people and to Washaway Beach, so named due to it being washed away on every incoming tide. Grotto Point Lighthouse is another glorious detour. 
Clontarf Reserve is a sunny harbourside park that is a popular picnic spot. There is a restaurant and cafe here, as well as a playground, BBQ facilities and netted swimming area for kids to paddle in. It is a short walk from here to the Spit Bridge, a functioning lift bridge with historical significance.
Many walkers catch a bus from the city to the Spit Bridge in Mosman to begin the walk from the opposite end. Keep a lookout for migrating whales breaking the surface of the steely-grey seas as they make their way along the NSW coast around Dobroyd Head between May and November. 
Enjoy These Attractions near the Manly to Spit Bridge Walk