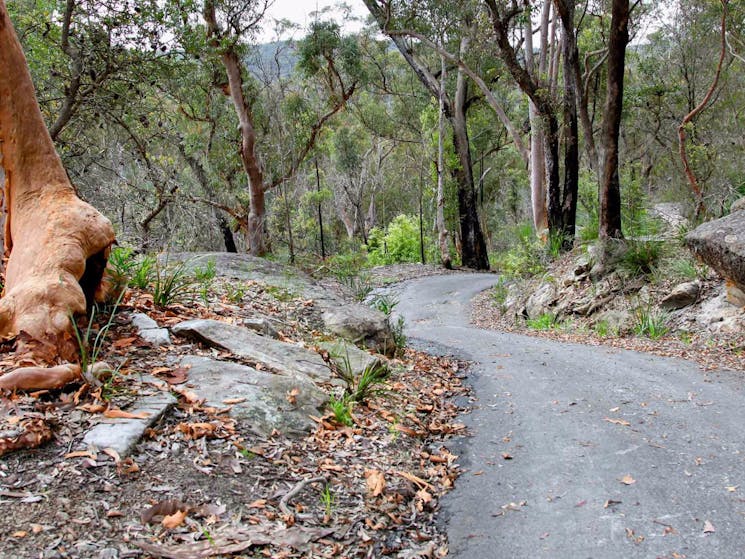 Stepping Stone Crossing to Cascades Trail
Overview
Garigal National Park is blessed with an extensive network of tracks and trails that can be enjoyed by walking, by mountain biking, or by horse riding. Stepping Stone Crossing to Cascades trail is…
Garigal National Park is blessed with an extensive network of tracks and trails that can be enjoyed by walking, by mountain biking, or by horse riding. Stepping Stone Crossing to Cascades trail is one of several tracks located on Middle Harbour Creek, near Chatswood. Perfect for a Sunday stroll, this track joins Cascades trail with Pipeline and Bungaroo tracks, and Davidson Park to Stepping Stone Crossing. Be sure to check out these other tracks so you can plan your adventure.
This gently undulating trail follows creek banks lined with diverse wet eucalypt forest, including blackbutt, swamp she-oak, angophoras and black wattle, until it reaches a gorgeous series of rockpools known as 'Cascades'.
At Cascades, you'll see remnants of a sandstone wall that was built in 1928 to dam the first pool. While swimming is not recommended here today due to urban run-off, it's a lovely spot to take in an abundance of wildlife and enjoy birdwatching. Look out for azure kingfishers, cockatoos, kookaburras, parrots and owls. In the water, you may spot water dragons and other reptiles, as well as several saltwater fish species.