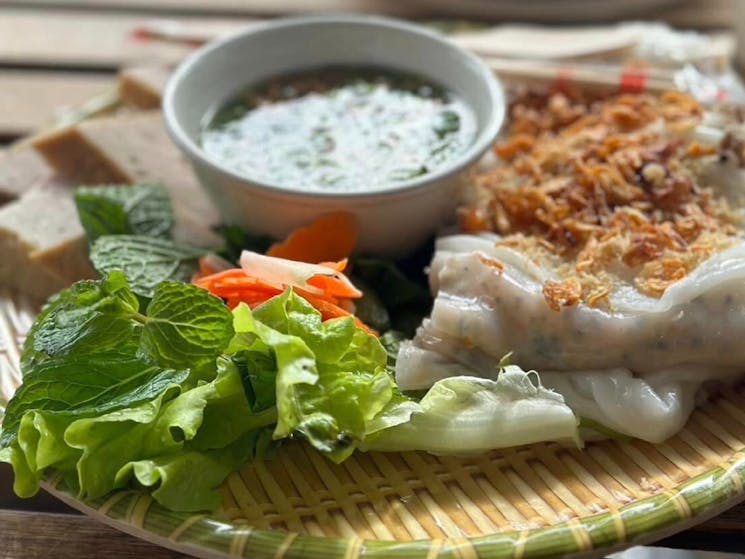 Banh Cuon Ba Oanh
Overview
For an extraordinary culinary adventure that will transport you to the bustling streets of Hanoi, make your way to Banh Cuon Ba Oanh. This hidden gem nestled among the Vietnamese eateries on…
For an extraordinary culinary adventure that will transport you to the bustling streets of Hanoi, make your way to Banh Cuon Ba Oanh. This hidden gem nestled among the Vietnamese eateries on Marrickville's Illawarra Road focuses on one extraordinary dish – banh cuon.
Delicate rice-paper sheets, expertly made in-house, are filled with a savory mixture of pork mince and shredded wood-ear mushrooms, then meticulously folded into delectable parcels. Served alongside cha que (garlicky Vietnamese pork sausages), tangy dipping sauce, fresh herbs, and crispy fried onions, each bite of banh cuon is an experience of pure silkiness and exquisite taste.
While banh cuon takes centre stage, the menu also features a few other delectable options. Indulge in xoi, a turmeric-coloured sticky rice with dried mung bean paste, fried onions and pork floss, or savour the comforting flavours of congee, a chicken broth topped with fried bread, pickles and pork innards. And finish off your meal with che buoi, a delightful dessert comprising iced coconut milk, pomelo-pith crackers and chewy tapioca jelly.
Read more
Read less
Disabled access available, contact operator for details.