4 family-friendly adventures in the Penrith region
Want to put a smile on the face of your kids? These five exhilarating activities in Penrith will deliver a dose of sheer happiness (and adrenaline) – and parents will enjoy them just as much.
Soar like a superhero
If there's one thing every kid dreams of, it's soaring into the air like a superhero. Give your family the chance to unleash their powers with a session at iFLY Downunder. At this indoor skydiving centre, the huge vertical flight chamber uses massive wind generators to create a cushion of air that lets you defy gravity as effortlessly as Iron Man.
You'll get the same heart-in-your-mouth rush of excitement as you would if you were skydiving – competitive skydivers even use it to perfect their technique – without having to strap on a parachute or jump out of a plane. iFLY is suitable for all ages and abilities, and instructors stay in the flight chamber with you to help you master the moves (tip: it's all about relaxing and letting the wind do the work) while the rest of the family cheer you on through the glass walls. Included in the flight fee is a USB with photos and footage, so you can relive your high-flying moment over and over again.
Call the shots
If you thought your family games of Scrabble got competitive, wait until you give Aqua Golf a try. Imagine a golfing range, but with the green replaced by a glassy lake, complete with vistas of the Blue Mountains in the background. The challenge is to hit your ball into one of the targets on the water (and yes, the golf balls float too). The targets are positioned to cater to players of all ages – the closest is just 10 metres away – and you can collect a cash prize if you score a hole in one. Clubs are supplied; to get started, all you need to do is to buy a bucket of golf balls.
Every player has their own style – some rely on a steady hand and a sharp eye, others prefer knocking it out of the park.  Either way, you'll be exclaiming in delight or howling in despair in no time – it's impossible not to get very invested. 
Learn the ropes
After an activity that's equally as challenging for the brain as it is for your body? Then you're ready to hit the rock-climbing wall. For a great family activity that challenges you both mentally and physically, an indoor rock climbing session at The Climbing Centre Penrith is hard to beat. With 21 climbing walls and more than 100 different routes, all colour-coded by ability, the best thing about it is little novices as young as four can climb alongside seasoned pros.
Absolute beginners can stay close to the ground with a bouldering session, while thrill seekers will want to hit the ropes straight away. Nothing beats the charge that shoots through your body when you reach the top of a wall – and the harder the climb, the greater the satisfaction. (Especially when you beat mum or dad to the top!)
Get paddling
When it comes to sure-fire recipes for a good time with the gang, it's hard to beat the combination of kids plus water. Give your teens an aquatic adventure of a different kind with a kayaking session on the glorious Nepean River. The calm waters make this a relaxing activity even for first-time paddlers, and Horizon Line lets you choose between teaming up in double kayaks or going it alone in single kayaks.
Double kayaks bring the pleasure of learning to paddle in time, the two of you finding a satisfying rhythm that propels you smoothly through the water (with a few accidental splashes as you work it out). Single kayaks suit more competitive family members, those who want to prove they can go faster and further than anyone else. Either way, there's something magical about the feeling of gliding across the water, nothing but the sounds of the breeze in the trees and the call of local birds, in the company of those you love most. 
Let us do the planning for you!
Check out our itinerary for a fabulous family day out in greater Penrith.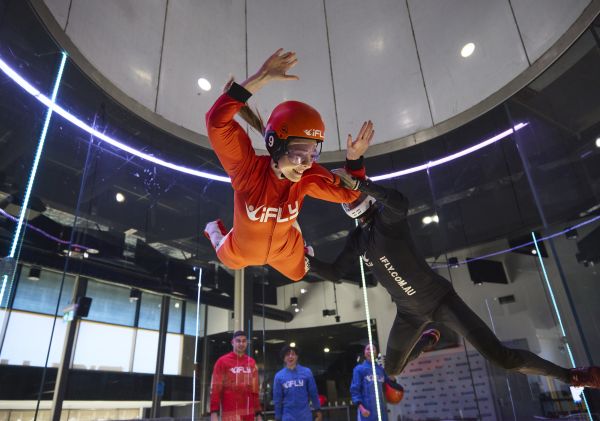 More articles by theme
You may also like...