Accessible Sydney - Accessible museums & galleries
Most of Sydney's most popular galleries and museums offer mobility access, as well as a number of accessible tours and programs. From perusing contemporary art in The Rocks to learning about the country's seafaring past at Darling Harbour, visitors of all abilities can enjoy the city's arts and culture. 
Art Gallery of New South Wales 
With more than 40 exhibitions annually and vast collections of Australian, Aboriginal and Torres Strait Islander, European and Asian art, there is always something new to discover at the Art Gallery of New South Wales.  
Features include an audio induction loop for lectures and films held in the Domain Theatre and Centenary Auditorium; a portable FM-transmitter system for guided tours, on request; a variety of access programs for children with disabilities; and workshops for visitors with dementia and disabled artists.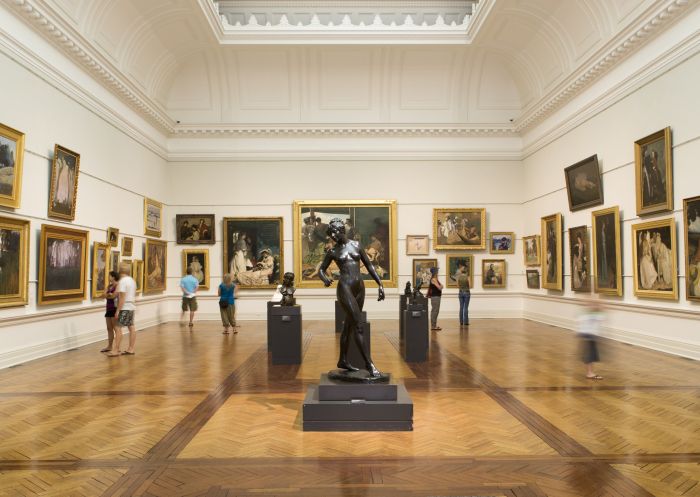 Culture Dose for Kids, an opportunity for children with mild anxiety to take a guided slow look at artworks, and Starting with Art, an interactive creative program that connects primary and secondary students with disability, are particularly popular.
If booked two weeks in advance, audio-described tours of the permanent galleries and temporary exhibitions are available, as well as Auslan interpreters free of charge. Wheelchairs, mobility scooters, and handheld magnifying lenses can be borrowed from the front desk. 
Getting there: There are four free dedicated accessible parking spaces – two on-street spaces at the front of the gallery and two off-street spaces at the back of the gallery. Bus 441 departs from the York Street side of the Queen Victoria Building and drops off near the gallery. The nearest station is St James Station. 

Getting around: Both the front and back entrances of the gallery have wheelchair access. All public areas inside the building can be accessed by ramps and two lifts. A staff member is available for assistance if required. For detailed information, go to the gallery's Access Guide.

Accessible toilets: Wheelchair-accessible toilets are located on the upper level, lower level 1 and lower level 2. 
Museum of Contemporary Art 
Located within a striking Art Deco building in The Rocks, the Museum of Contemporary Art is Australia's leading space dedicated to collecting and exhibiting art from today's artists.  
The MCA's Bella Program offers Art Education for young people with disability and disadvantage, and runs from September to December each year. The fantastic Artful: Art and Dementia Program is seasonal and occurs over a six-week period. The audio-description and Auslan tours with trained artist-educators are also a highlight. Meanwhile, if you would like to enjoy art from the comfort of home, tune in to the MCA's website to view a range of Auslan videos hosted by MCA Artist-Educator, Angie Gotto.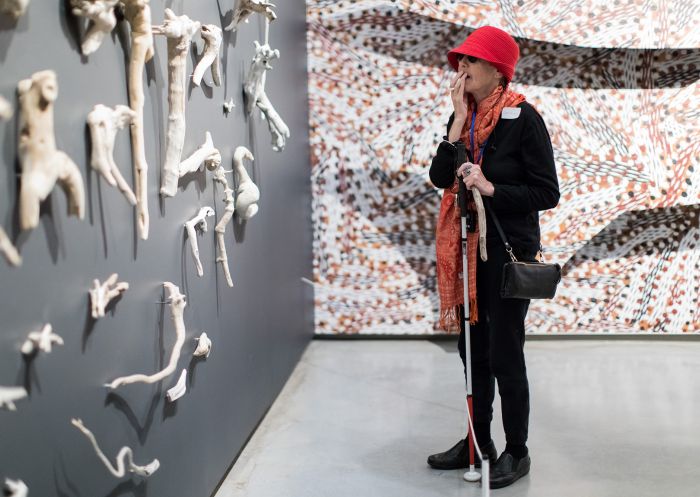 The front desk has a lowered section to accommodate easy communication, and all MCA exhibition labels are available in large font on request. Hearing loops are available in the Veolia Lecture Theatre, Seminar Room, throughout the National Centre for Creative Learning and the Level 6 rooftop venues.  
Getting there: The MCA is located very close to Circular Quay's transport hub, which is serviced by accessible trains, ferries and buses. 

Getting around: All public areas are wheelchair accessible and can be reached via lifts, including the rooftop cafe and sculpture terrace. 

Accessible toilets: Accessible toilets are located on Ground Level, Levels 2 and 3, Level 4 MCA Cafe, Level 6 rooftop venues and in the National Centre for Creative Learning. 
Museum of Sydney 
Want to learn about the origins of Sydney from colonial times? The Museum of Sydney sits on the site of Australia's first Government House, which served for 57 years as the centre of the colony's administrative, social and political life.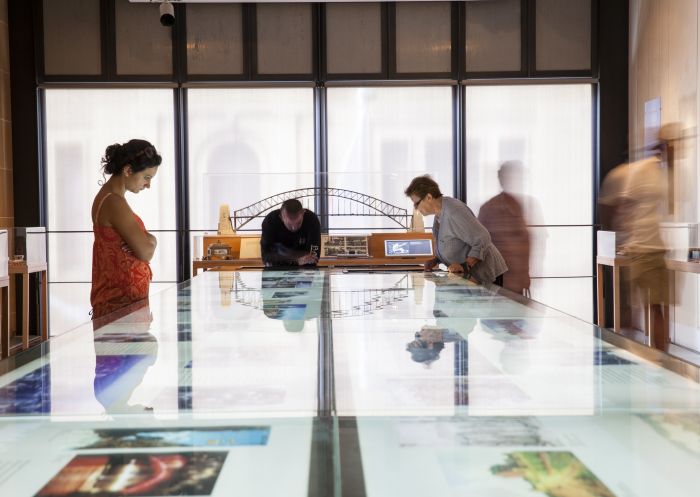 The AGL Theatre is equipped with an induction hearing loop and accessible seating spaces are located at the front of the theatre. Museum staff are happy to provide a personal experience for visitors with specific needs – simply call head to discuss your requirements, particularly in terms of an audio or tactile enhanced tour. 
Getting there: The best method of transport is train, ferry or bus arriving at Circular Quay where there is a short, but steep grade up two blocks to the museum. There is no on-site parking or drop-off area. 

Getting around: The museum offers wheelchair access to its three levels by lift. Collect the Visitor's Guide upon arrival to plan your visit. 

Accessible toilets: Unisex accessible toilets are located on the ground level, behind reception. 
Powerhouse Museum 
Showcasing the best of human ingenuity and design, the Powerhouse Museum houses a diverse and impressive collection of more than 500,000 items that have been curated over 125 years.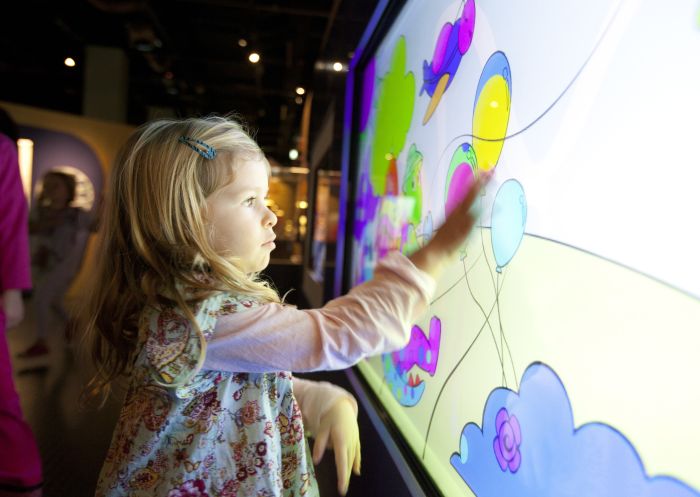 Guided tours of the museum which can be tailored to your needs are available. Members of the Deaf community or with vision impairment can join an Auslan-interpreted program or a descriptive touch tour.  
Getting there: The Powerhouse Museum is close to Darling Harbour, Chinatown, Central Station and the Exhibition Centre Sydney Light Rail Station. The Goods Line – a 500m walk along flat terrain starting from the Devonshire Street Tunnel at Central Station's Southern Concourse – provides an accessible pedestrian route from Central Station. A limited amount of accessible parking spaces are available at the museum, but must be pre-booked online. 

Getting around: Main entry is via automatic doors from a large, paved courtyard on Harris Street. Ramps and elevators allow for easy exploration – pick up a museum map at the main entry to plan your journey.  

Accessible toilets: Accessible toilet blocks are located on level 2.   
Australian National Maritime Museum 
Housing one of the largest fleets of any museum in the world – including a full-scale model of the Endeavour ship sailed by Captain Cook – as well as permanent exhibitions about historic sea journeys and the navy, the Australian National Maritime Museum is the place to delve into Australia's seafaring past.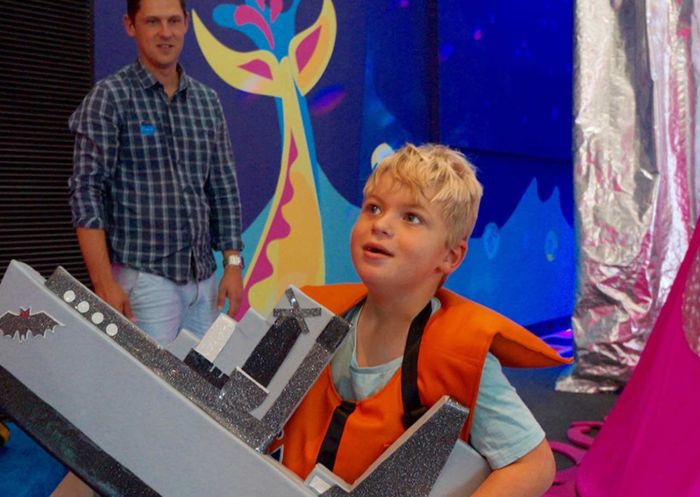 The museum offers Auslan-interpreted programs, descriptive touch tours and guided tours with audio descriptions. In addition, audio-induction loops are available in the theatre, main ticket areas and museum meeting rooms, and closed captions are available on most videos and films screened in the theatre and throughout the galleries. 
Accessible programs include Sensory Friendly Sundays for kids and adults on the autism spectrum; the Cabinet of Curiosities, a touch trolley program available on Sundays suitable for those who are blind or have low vision; and Underwater Drones is an accessible outdoor activity which can be enjoyed by wheelchair users. In addition, staff in front-facing areas are trained to assist visitors with hidden disabilities through the Sunflower Program. 
Getting there: Two dedicated accessible parking spaces are located outside the main entrance to the museum. To pre-book parking, please call 9298 3777. 

Getting around: Enter from the paved area between the Harbourside shops and Pyrmont Bridge through automatic doors. Ramps and lifts provide access to exhibition spaces within the main building. Courtesy wheelchairs are available upon request. 

Accessible toilets: Accessible toilets are located on the museum's lower level (accessible by lift and ramped walkway) and in the ground-level entry foyer. 
Accessible things to do in Sydney