Cruise to Sydney
Sydney is one of the world's great harbour cities and an essential stop for any cruise to Australia. Whether arriving or departing, you'll cruise past the iconic Sydney Opera House and Sydney Harbour Bridge and through the dramatic sandstone cliffs of The Heads at the entrance to the Pacific Ocean.
The city offers a spectacular blend of art, culture, dining, events, outdoor activities and grand colonial architecture. Sydney is the ideal destination to start or finish your cruise, and it's compact enough to explore on a day in port. It's also the only Australian city to have two dedicated cruise terminals – the Overseas Passenger Terminal and White Bay Cruise Terminal.
View the cruise schedule for more information on domestic and international cruises from Sydney.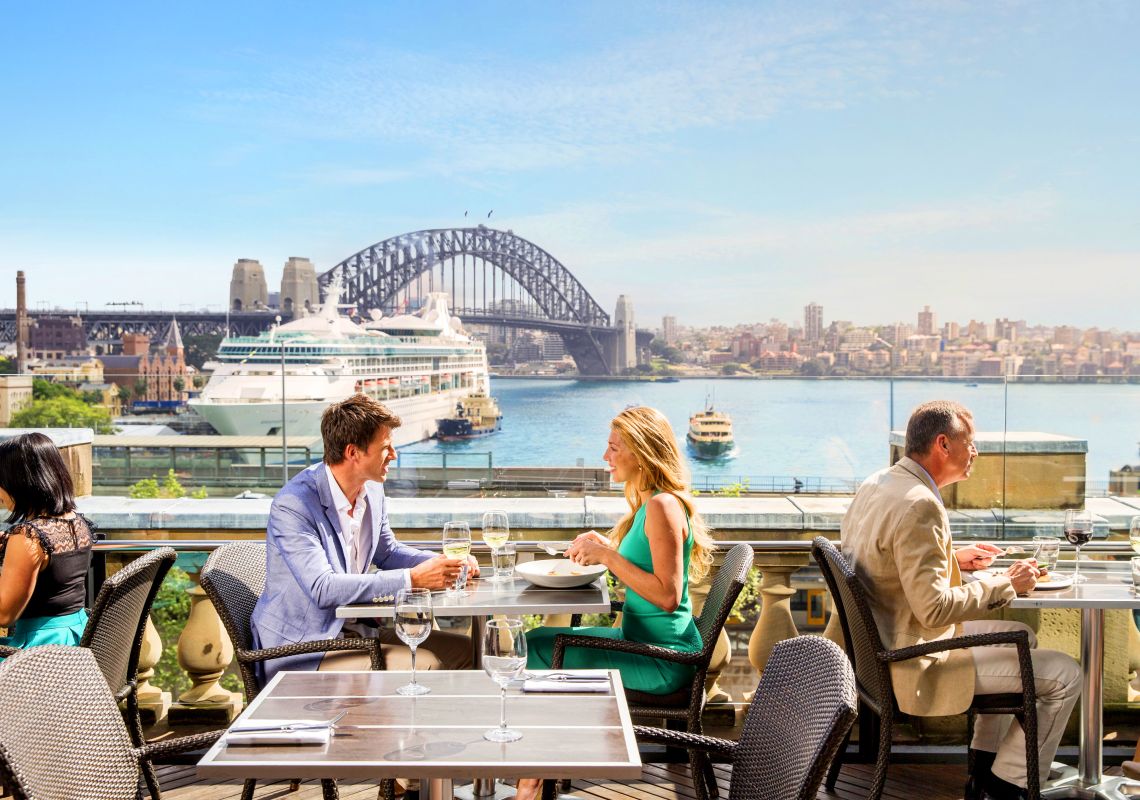 Overseas Passenger Terminal
Located at Circular Quay in the heart of Sydney, the Overseas Passenger Terminal has uninterrupted views of Sydney Harbour and the city. It's beside the historic Rocks area, with its cobbled laneways, artisan markets and some of the oldest pubs in Australia. Just outside your cabin door, find attractions like zoos, aquariums, restaurants, bars, theatres and world-class shopping.
The terminal can accommodate some of the largest cruise ships in the world and the 4,900-passenger Ovation of the Seas is a frequent visitor. It's just a few minutes' walk to Circular Quay station for trains, buses and ferries. Taxis and cars can also drop off or pick up passengers right in front of the terminal. To get from Sydney airport to the Overseas Passenger Terminal you can take the train to Circular Quay (17 minutes) or take a taxi which takes about 30 minutes depending on traffic.
Find out more about Sydney Overseas Passenger Terminal.
White Bay Cruise Terminal
White Bay Cruise Terminal sits further into the harbour, so passengers will have the thrill of sailing right under the Sydney Harbour Bridge. It's close to the Balmain area, a trendy neighbourhood with relaxed pubs, top restaurants and boutique stores. The Sydney Lyric Theatre and The Star Sydney are also nearby.
White Bay is mostly used by smaller ships and many of Sydney's home-ported ships are based here. The terminal is only five minutes by car or taxi to the city and there are large car parks for passengers embarking. Most cruise lines offer the option to book transfers from Sydney Airport to White Bay Cruise Terminal or to and from Central Station.
Find out more about White Bay Cruise Terminal.
Tourist Refund Scheme
A Tourist Refund Scheme (TRS) desk is available at both cruise ship terminals for international cruises. TRS enables you to claim a refund for the Good and Services Tax (GST) and the Wine Equalisation Tax (WET) that you paid on goods purchased in Australia, after you've checked in.
Inspiration straight to your inbox
Subscribe to our newsletter in order to stay up to date for all the upcoming events, news and inspiration.
Never miss out on news and events