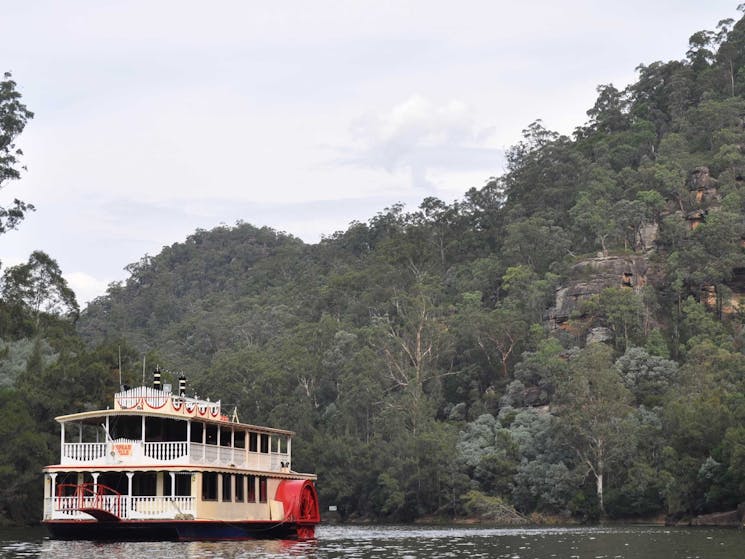 Historical Discovery Cruise
Saturday 30 January 2021 (QUARTERLY event)
Overview
Take a leisurely, all day cruise along the Nepean River featuring the spectacular natural landscape of the Nepean Gorge and foothills of the Blue Mountains National Park and discover the secrets…
Take a leisurely, all day cruise along the Nepean River featuring the spectacular natural landscape of the Nepean Gorge and foothills of the Blue Mountains National Park and discover the secrets hidden in Penrith's backyard.
Experience the natural wonders of the landscape and its inhabitants including three varieties of eagles, great cormorants, azure kingfishers, bell birds and more; there have been reports of a dingo close to Erskine Creek and those with binoculars may even spot an echidna hidden amongst the scrub on the riverbank! Don't forget your camera!
Guests will enjoy a Devonshire Tea of freshly baked scones with jam and cream served with freshly brewed tea or coffee on boarding as you cruise through the narrows at the mouth of Glenbrook Creek.
The cruise passes the pathway to Euroka Clearing and the historical picnic stopping point of Breakfast Creek at which point a two course shared platter lunch will be served.
On reaching the mouth of Erskine Creek the Nepean Belle will turn around and make her way back along the River to the boarding jetty whilst enjoying a small afternoon tea.