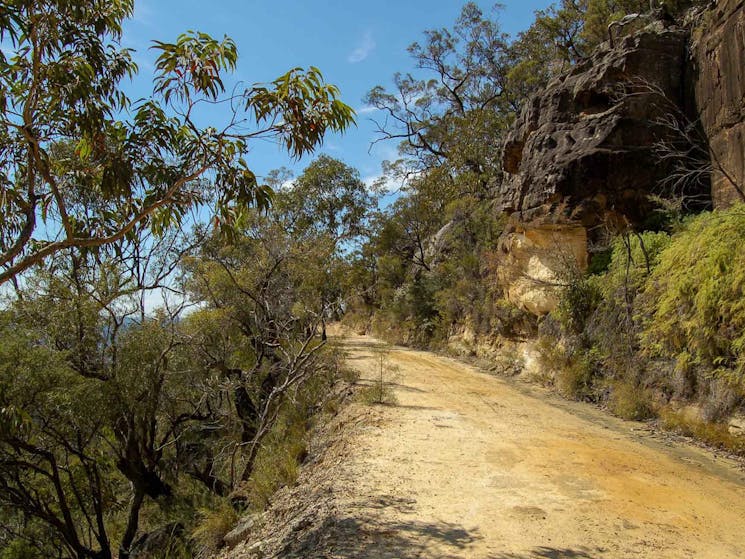 Womerah Range Trail
Overview
Womerah Range trail is a challenging hiking, mountain biking and 4WD route with scenic views through the dramatic sandstone landscape of Parr State Conservation Area. Explore the rugged and remote…
Womerah Range trail is a challenging hiking, mountain biking and 4WD route with scenic views through the dramatic sandstone landscape of Parr State Conservation Area.
Explore the rugged and remote landscape of Parr State Conservation Area on foot, by mountain bike or in a 4WD along Womerah Range trail. This steep and sometimes sandy track makes for a challenging experience, especially if you're cycling. Enjoy scenic views of cliffs, rocky outcrops and dramatic gorges from this ridgeline track though Hawkesbury sandstone country. Stop for a picnic along the way and gaze out upon McDonald Valley and nearby Yengo National Park.
If you're hiking and want to complete the whole track in two days, why not do a car shuffle and begin at the main entrance off Webbs Creek Road and finish at Parr's western entrance on Putty Road? Otherwise, you could hike in from either entrance, stay overnight at Heartbreak Hill campground then retrace your steps the next day. There are plenty of possibilities.
**To keep visitors safe ALL camping in NSW national parks now requires a booking. For day visitors, please plan ahead and visit outside of peak periods (11am and 2pm). Check park alerts and visit COVID-19 updates for more information before visiting any park – www.nationalparks.nsw.gov.au **