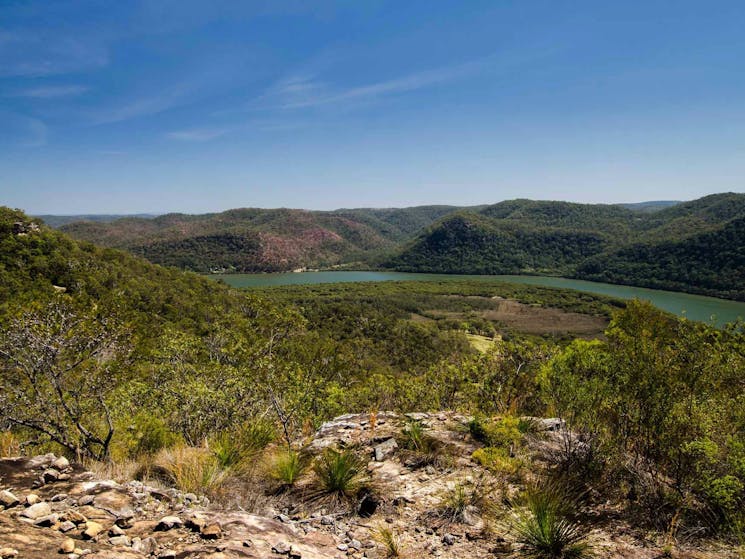 Canoelands Ridge Walking Track
Overview
There's no better way to experience the beauty of Marramarra than by spending the day exploring Canoelands Ridge walking track on foot. The 10 kilometre walk to Gentlemans Halt takes you through…
There's no better way to experience the beauty of Marramarra than by spending the day exploring Canoelands Ridge walking track on foot.
The 10 kilometre walk to Gentlemans Halt takes you through constantly changing vegetation and right in to the heart of this secluded pocket of bushland in the northern outskirts of Sydney. See spectacular ridge-top colours of iconic Hawkesbury sandstone and remarkable views of Hawkesbury River. Watch the occasional boat carving through the glistening blue waters of this beautiful waterway.
In spring, the bush turns into a vibrant display of colour with the native wildflowers. Wander through gullies of bright red waratahs and Gymea lilies, and explore the saltmarsh and mangroves by the river's edge near Gentlemans Halt. Head off for a long day walking in the bush, or pack your tent and sleeping bag for a peaceful night camping by the river at historic Gentlemans Halt campground.
**To keep visitors safe ALL camping in NSW national parks now requires a booking. For day visitors, please plan ahead and visit outside of peak periods (11am and 2pm). Check park alerts and visit COVID-19 updates for more information before visiting any park – www.nationalparks.nsw.gov.au **