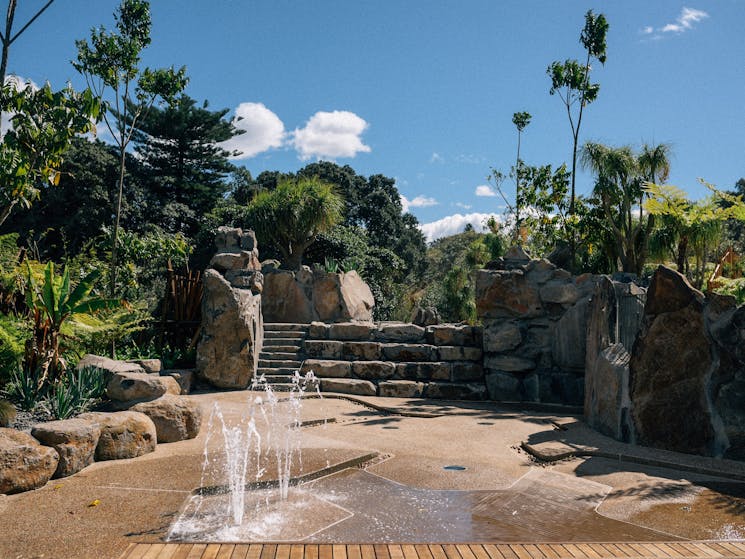 The Ian Potter Children's Wild Play Garden
Overview
The Ian Potter Children's Wild Play Garden Is perfect for kids of all ages and abilities to run, jump, play, learn and discover the wild side of nature play. The Ian Potter Children's Wild Play…
The Ian Potter Children's Wild Play Garden Is perfect for kids of all ages and abilities to run, jump, play, learn and discover the wild side of nature play.
The Ian Potter Children's Wild Play Garden is all about discovering the wild side of life. Kids of all ages and abilities can run, jump, play and learn in a dramatic landscape. They might get lost in the wonder of nature with dry creek beds, an artesian water play area, a bamboo forest, banksia tunnels, turtle mounds and Centennial Park's first treehouse.
Sitting within a busy part of the city, the garden is the perfect spot for children to reconnect with nature when many don't always have access to nature and the outdoors.
Rather than a 'playground' where a structure is placed onto a space to engage children in physical movement, the Wild Play Garden is a 'play space' or a 'play ecosystem' by design. It incorporates elements from the natural environment in a way that encourages kids to test their boundaries. express themselves, practice critical thinking and engage with nature.
Not just for the kids, families can now enjoy for birthday parties, BBQs or for playdates.
Read more
Read less
Disabled access available, contact operator for details.