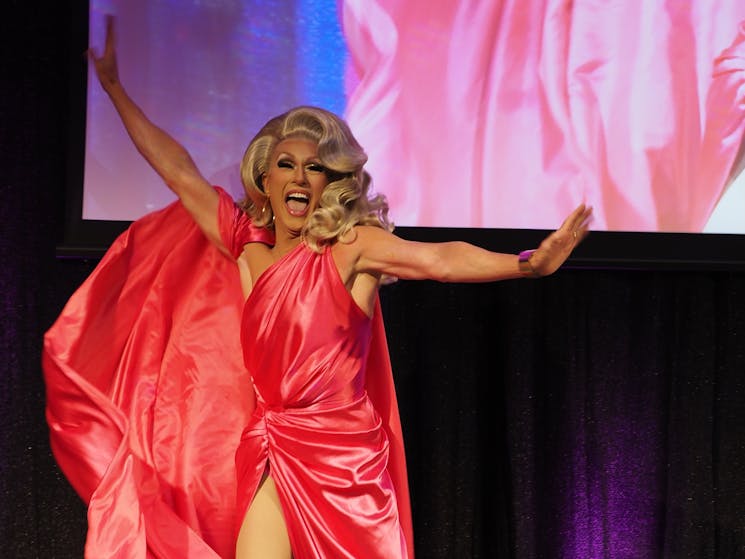 My Drag Story
Saturday 19 June 2021
Overview
Presented by Sydney Gay and Lesbian Mardi Gras in association with FEM Presents. Curated by Anthony Carthew and hosted by Amelia Airhead. With Priscilla, Queen of the Desert  stamped on our national…
Presented by Sydney Gay and Lesbian Mardi Gras in association with FEM Presents. Curated by Anthony Carthew and hosted by Amelia Airhead. With Priscilla, Queen of the Desert  stamped on our national identity and Drag Race sashaying across screens there's no doubt drag has sunk its six-inch heels into the mainstream.
Fabulous glamour, outrageous shade and shouts of 'Yaas queen!' or 'G'day darl!' are now familiar scenes not only along the inner-city rainbow strips but across the suburban landscape of pubs, clubs and backyards. 
From the heady days of Oxford Street's "Golden Mile" to the diverse fabulousness many decades later – the nation's alumni of drag artists have proudly carved a cheeky and quintessentially Aussie path through the cultural playbook. 
The ultimate expression of queerness, drag has often been a defiant voice for the communities - in a passionate celebration of pride and rage against injustice. 
Premiering to rave reviews at the 2021 festival, My Drag Story uncorsets a brand spanking, glittery new line up of drag legends and up-and-coming royalty including Bee Dazzled Shanks Prince of Redfern, Dizzy Bility, Dorreen Manganini, Minnie Cooper and the one and only Miss 3D.
Caters for people who use a wheelchair.
Caters for people who are deaf or have hearing loss
Allows a person's carer free entry into participating venues and events