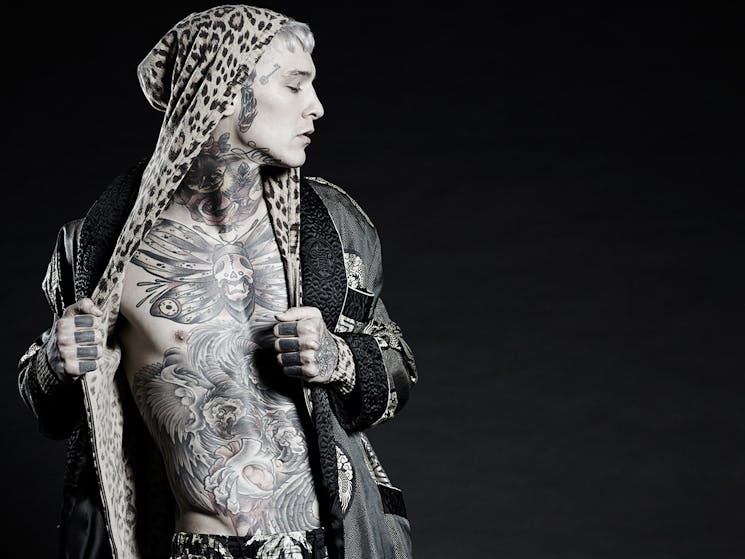 NAS Queer Contemporary – SKIN DEEP
Friday 26 February 2021 to Sunday 07 March 2021
Overview
SKIN DEEP is an interactive exhibition that presents intimate and personal stories of LGBTQI+ people through their tattooed bodies and stories, celebrating diversity, defiance and body art. The…
SKIN DEEP is an interactive exhibition that presents intimate and personal stories of LGBTQI+ people through their tattooed bodies and stories, celebrating diversity, defiance and body art.
The Exhibition is made up of several unique components – presented as one integrated audience experience or as separate experiences. LGBTQI+ community participation is central to SKIN DEEP components – as narrators, models, storytellers and performers.
For those who have been marked as 'other' for their gender and/or sexuality, the claiming of identity through tattoos is a powerful and cathartic ritual.
The LGBTQI+ community has a long and varied history with tattoos. In a time when it was illegal to be out and proud, many LGBTQI+ people tattooed their body to convey secret messages or as an act of defiance to authority.
Powerhouse Director and Choreographer, Meryl Tankard, will work with community members and aerialist, The Amazing Ari, to present a beautiful movement and dance performance that will slowly reveal the performer's body tattoos, unveiling secrets and hidden stories. The Performance will be accompanied by arias of unrequited love by the Sydney Song Company.
Audiences will also have access to the Between Good and Evil tunnel exhibition by Stefania Riccardi, exploring the tattoos of the female inmates at the Darlinghurst Gaol – now the location of the National Art School.
Please note that this is an 18+ event.